Share the Love With Home of Chiji
Posted by HOME OF CHIJI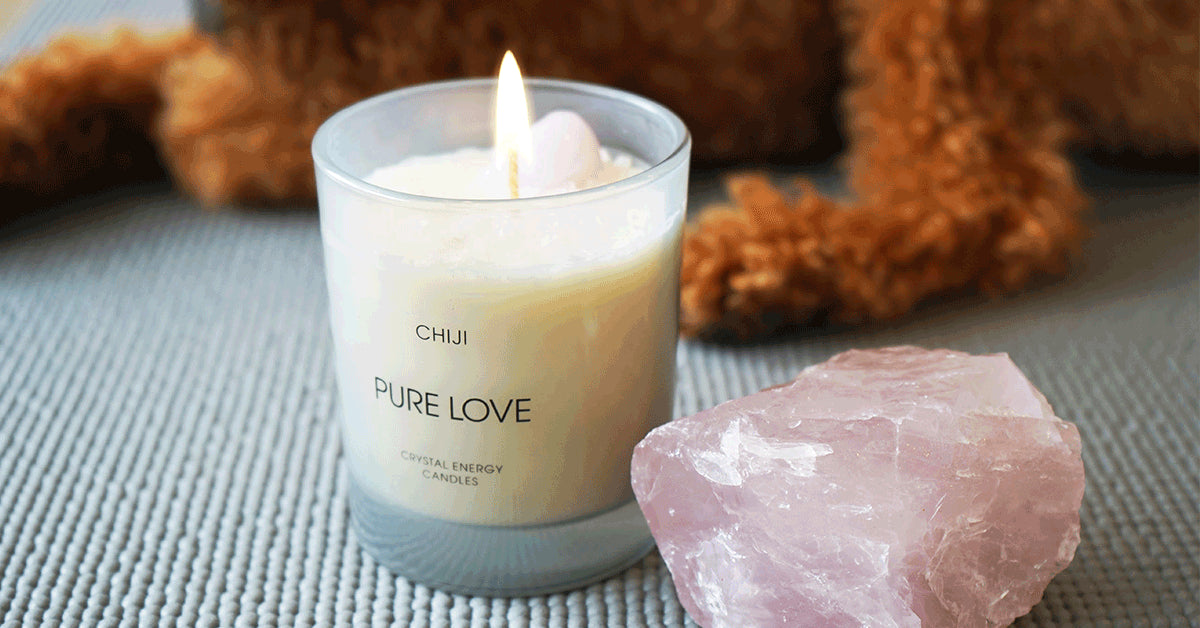 It's no secret that opening yourself up to love and acceptance of any kind is a difficult thing to do. Even if you love yourself inside and out, being vulnerable with someone else takes a lot of courage and patience.

At Home of Chiji, we want to help you feel more open to yourself and to those around you with our Pure Love energy candle, you can use the natural power of crystals to help remove the negative vibes and replace them with good, loving intentions. Each of our energy candles come with both large and small crystals within, helping to focus your energy and intentions on what you need most in that moment. Find the candle that speaks to you, and order your energy candles and so much more from Home of Chiji today.
Discover Our Pure Love Energy Candle
The Pure Love candle at Home of Chiji is designed to help you achieve the best version of yourself by helping you open yourself up to love from everyone around you, including yourself. This beautiful candle is scented with the calming scents of jasmine, clove, pink rose, violet, and more. Within the candle, you can find small rose quartz and clear quartz, which are crystals that help strengthen the energy you have within and encourage love of all kinds. You will also notice a larger rose quartz crystal in your candle. During the first burn of your candle, this crystal will become more noticeable. Once the wax has melted enough, you can remove this crystal with a spoon and use it in your meditation practice or carry it around in your pocket or purse to help amplify and attract love wherever you go.
About the Rose Quartz Crystal
If you couldn't already tell by its rosy pink hue, when it comes to matters of the heart, whether or not they are romantic, rose quartz is your go-to crystal. This crystal directly aligns with your heart chakra, and can help lift the heaviness from your heart in a healing ritual by placing your rose quartz crystal on your chest, directly over your heart.

There isn't anyone who can't benefit from a little more rose quartz in their life. Even if you aren't directly using it in a healing ritual, you can place small pieces of rose quartz around your home to help you feel more love, whether it's for family, friends, yourself, or a romantic interest. You can also place pieces of rose quartz in your bath — or light the Pure Love candle from Home of Chiji — to complete a love-filled healing ritual.
Setting Your Intentions
The Pure Love energy candle from Home of Chiji is also an excellent addition to your meditation or yoga practice, especially if you desire more love in your life.

As you get in the proper mindset for meditation, take some time to reflect and decide what goals and intentions you want to set for your practice. Do you want to eliminate negative emotions after heartbreak? Are you looking to feel closer to friends or family? Once you decide on your intentions, you can keep them to yourself, or help attract positive vibes and energies by writing down your intention and placing it under your energy candle or under your rose quartz crystal. Keep your intention in mind as you practice meditation, and allow the rose quartz to channel your energy and amplify the power into the universe.
Buy Your Pure Love Candle Today!
Whether you're looking to attract more love in your life or you simply want to sustain and grow the love you already have, the Pure Love energy candle from Home of Chiji is for you! Use this candle on a daily basis or buy all four of our energy candles to promote good vibes at all times.
Order now
!
Collection 2019
Sale 70% Off
Title for image